A few days ago I found the limited edition Wet n Wild Fergie collection for Summer 2013. I ended up buying both Photo Op eyeshadow palettes and 2 nail polishes. Today I have swatches of the lighter, more neutral eyeshadow palette called Newport Nights. I found the pigmentation the be the same level as the permanent line of Fergie eyeshadows, but the texture is silkier with less fall out.
Descriptions:
The Top Left is a matte cream shade. A more yellow toned, sheerer version of Wet n Wild Brulee.
Top Right is a pale, yellow toned, baby pink with a satin finish and a scattering of subtle, silver shimmers.
Bottom Right is a red toned, medium orange somewhere between a satin and a frosty finish with gold shimmer. Kind of reminds me of terracotta.
Bottom Left is a warm toned, medium violet with the same satin/frost finish and subtle blue shimmer.
The Middle shade is a warm toned, brownish bronze shimmer with gold glitter. There was a little bit of fallout with this shade, but a primer or base will fix that easily.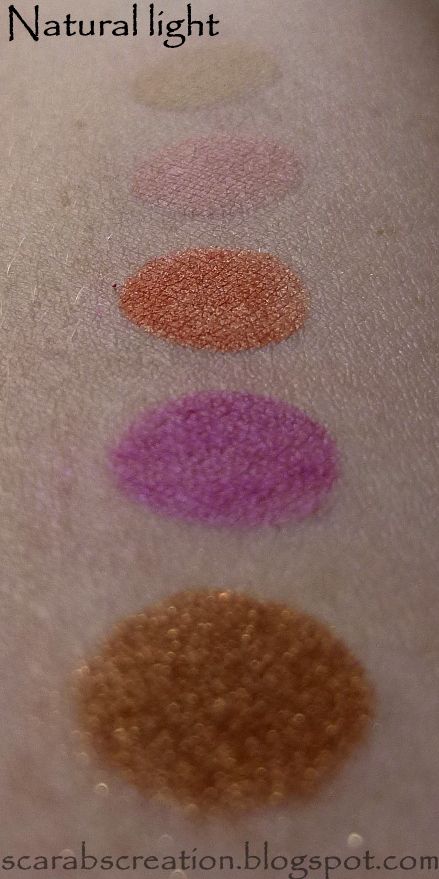 As usual, I swatched with a patting motion with an ELF eyeshadow brush over Darling Girl Glitter Glue.