This is a review set I bought from the
Darling Girl website
a few months back. It is $1 for four eyeshadows (and/or blush) samples and 1 lip product sample. Super affordable and anyone with an active beauty blog, youtube channel, facebook page, etc. can buy and review a set. Here is the listing for the
blogger review set
.
For this set I chose Provoke, Autumn Dusk, Joust, and Texas Tea. The lip product I picked out was Ver-beige Liquid Kiss Luxe lipgloss.
**This review set was purchased by me, with my Darling Girl model 20% discount. The discount does NOT affect the honesty in my reviews.**
Provoke
: "
Darling Girl's dupe of MAC Cosmetics Vex a grey green with red shift sure to become a staple in your collection! Provoke's shift is a little pinker than the golden red shift in Vex put when applied you can't really see the difference.
"
The grey-green base comes across as more of a yellowy beige to me.
Autumn Dusk
: "
This was a custom request by the lovely Kelly from Whimsy Beading. She wanted a light pearl grey exploding with copper sparkles and this was the result. With all the copper sparkle it really looks like a taupe/brown with copper sparkle."
I see a sheer, dusty, beige shimmery base with pinkish shimmer/sparkle and copper glitter.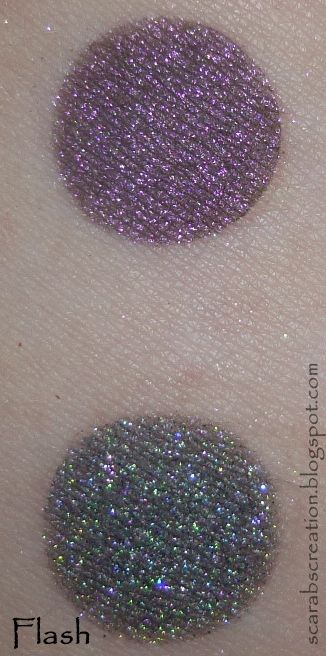 Joust: "
Sooty grey brown with green flash and a noticeable shift to violet.
"
To me, this is a murky base loaded with an unbelievable amount of violet shimmer that shifts to forest green to emerald green.
Texas Tea
:"
A deep, charcoal grey with a green shift and loads of multicolored eye safe glitter. This color was inspired by a drive we took a couple of weeks ago. For miles and miles, there was nothing but oil refineries. I wondered how I could live in Texas and not have an eyeshadow called "Texas Tea".
"
I would add that at extreme angles the green shift takes on a murky, brownish-plum color.
Ver-Beige
: "
At first glance looks like a pale peachy beige pearl but morphs into a silvery lavender pearl once applied. I adore this with a smokey eye!
"
There is also gold sparkle, and the violet shimmer shifts to magenta at an angle. I love this lipgloss. I bet it would look fabulous on a darker skin tone.
The picture on the left shows the blue toned, emerald green shift in Joust (third shade down) and the brownish-plum shift in Texas Tea (bottom shade).
The picture on the right shows forest green shift in Joust, and the multicolored glitter/sparkle in Texas Tea.
For this look I used:
Darling Girl Glitter Glue
Wet n Wild Brulee on browbone
DG Provoke on the inner corner and to blend edges
DG Autumn Dusk on the lid
DG Joust in the crease and outer V
DG Texas Tea on the upper and lower lashline
WnW ColorIcon black eyeliner
Maybelline Line Stiletto liquid liner in black
Maybelline Lash Stiletto mascara in black