This is my first experience with
Notoriously Morbid Cosmetics
. It looks like Notoriously Morbid (NM) has been open since July 2012, which as of now, is only a little over a year. I'm impressed with the level of professionalism and quality of product for being open for such a short amount of time. I also love the simple and eerie branding of the company. It totally speaks to my spooky heart. If you want to stay up to date on new product and sales be sure to check out the
NM Facebook
page.
**I received 8 eyeshadows from NM for free, in exchange for a review on my blog. As always, these are my 100% honest and personal thoughts on the company and products.**
Notoriously Morbid's formula reminded me a lot of Dawn Eyes Cosmetics' eyeshadow, they are
extremely
pigmented and that gives the eyeshadow a denser texture. A little bit of product goes a
very
long way!
Big Bird Must Die
: "
An 8 foot tall gigantic bird that hands around with children all day? And that doesn't seem strange to you? Big Bird Must Die!! A canary yellow with red sparkles and a red sheen."
The red sheen is very subtle, I'd personally like it more if the red was more noticeable.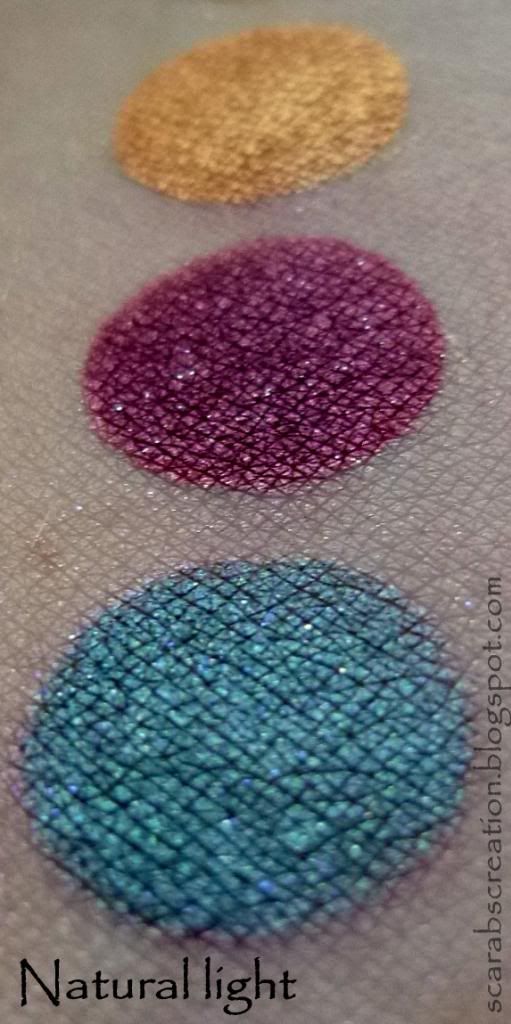 Tempest: Tempest isn't currently on the website. This makes me kind of sad, it was my favorite after Morgana. I was hoping to buy a full size at some point. Just in case, here's my description. A nearly metallic, peachy pink that shifts to a yellow gold.
Dita: "
A beauty like none other and representation of the neo-burlesque. Dita is a deep wine red with silver sparkles and a metallic sheen."
To me, this looks more like a magenta based, shimmery, maroon with silver sparkles.
Storm
: "
Ororo..Goddess..Weather Witch..whatever you may call her, she is mighty and she is beautiful. A dark gray with a green sheen and blue and green sparkles."
I see a medium, grey based, aqua-ish green, shimmery eyeshadow with delicate green and aqua sparkles. This particular shade wasn't as pigmented as the others, but by no means was it sheer or blend away into nothing.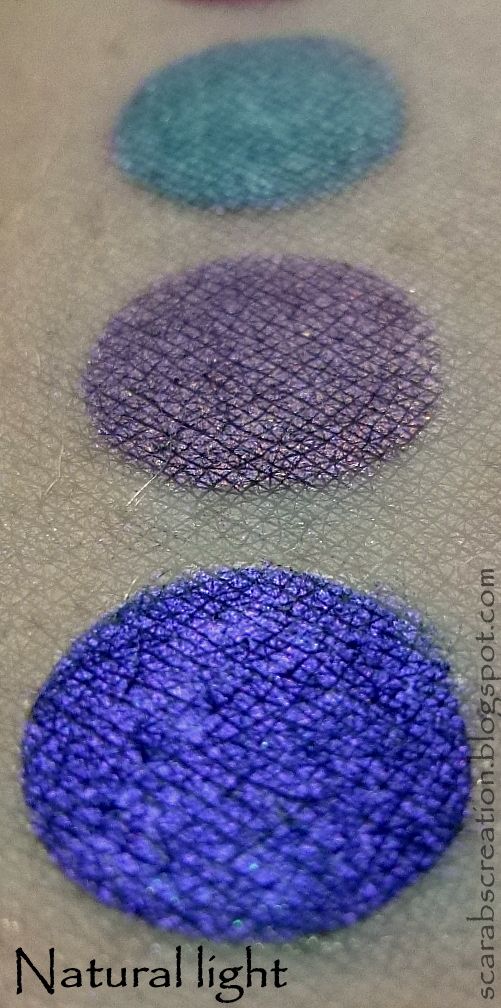 Lunatic Shrilling: "
The quiet rage that no one can hear. That dark voice screaming in the back of your head. That's the lunatic shrilling. A dark purple grey with copper sparkles and a copper sheen."
A really lovely color, would be great in a smokey eye look. A muted, dark grey based, warm, shimmery purple. I don't see much copper. It would be super gorgeous with a strong copper shift over the dusty
purple.
Morgana
: "
Strong, independent,bold..a color fitting of its name. A beautiful purple that is very deceiving, it goes on blue with a purple duochrome. In Camelot Collection."
Absolutely perfect! I love this color so much, it's the most beautiful purple/blue I've ever seen! Totally unique in my collection. Much more vibrant than my pictures show.
Andorian: "
Blue skin, antennas, and white hair. You must be from that icy moon Andoria! First of the Trek collection! A shiny gray blue with an icy duochrome."
I'm a bit confused by the description of this one. Andorian looks like a medium to dark, shimmery forest green base loaded with grassy green shimmer and sparkles that shift slightly to a light emerald green. Super gorgeous, complex green eyeshadow.
13 Black Rainbows
: "
Inspired by the Type O Negative song "12 Black Rainbows" except we gave it one to grow on! A black matte with a crap load of rainbow glitter. You won't get tired of looking at this one." A pretty spot on description! I can pick out pink, blue, purple, yellow, gold, aqua, and orange sparkles/glitter.
For this look I used
:
Elf Eyelid Primer
Darling Girl Glitter Glue
Wet n Wild Brulee on the browbone
Notoriously Morbid Tempest on the inner corner
NM Lunatic Shrilling on the lid
NM Morgana in the crease and outer corner
NM 13 Black Rainbows to deepen the outer corner
Maybelline Lots of Lashes Great Lash mascara in black